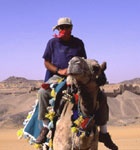 Bill has certainly enjoyed his life's adventures. Teaching for 40 years was his " real" adventure. Bill's first teaching assignment was on the Navajo/Hopi reservation in Arizona.

Teaching gave him the desire to travel and then share with his students his "adventures". His adventures made his classroom "come alive". Bill has traveled the world for the last 40 years. This has added up to 7 continents, 162 countries, and countless islands in the south pacific.
Photography is his real passion. Trying to capture "special moments" has always been his goal. These "special moments" can be either " face to face" with an animal or capturing a certain look on a young child's face.
Bill's photography has been well received with numerous gallery show awards, and recognition by other professional photographers. Bill continues to give travel shows weekly at Carlsbad Inn (23 years) and other well known places.

Bill is now the official USA representative for Africa Adventure Safaris located in Kampala, Uganda. He hopes to continue his " adventures" by taking groups back to Uganda.

By teaching Digital Photography, designing DVD's, presenting travel programs, and travel seminars keeps him fulfilling his passion.